How sassy is this picture? It was taken on Saturday after me, Lilly, and Mom had a girls day out! While we were in the mall, I decided that I wanted my second piercing in my ear. Well, after thinking about it for a few minutes...Lilly decided that she had to get her ears done as well. Me and Mom talked about it for awhile and she called Dad and got everything straightened out. We told Lilly that she could get earrings too. We did let her know that it would hurt for only a minute. She didn't seem to mind so she crawled up in my lap and the two ladies counted to three and pierced her little ears. She screamed bloody murder and latched on to me for dear life. My heart was broken and me and mom just looked at each other like what did we do to this baby. After about thirty seconds, Mom held up a mirror for Lilly and her eyes lit up and she instantly stopped crying. Ever since that moment, she keeps looking in the mirror and says "Hey there pretty girl!" Such a sassy girl!!

And the little princess also wanted me to share this with you all...her new big girl bedroom!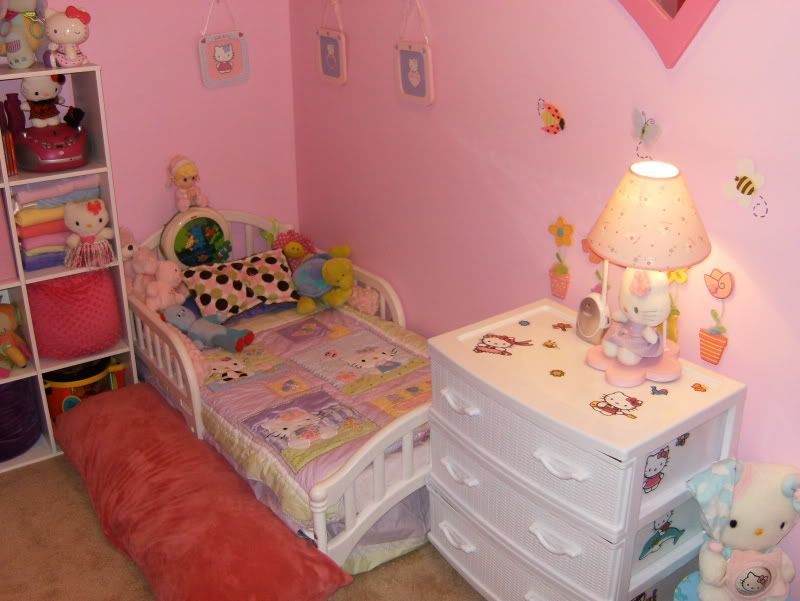 As you can tell, she picked out Hello Kitty as her decor! She loves loves love Hello Kitty. Hehe notice the big pillow beside the bed...just in case the safety rails do not do there job of keeping her in the bed!